Three Amigos
The Three Amigos is a regular workshop session where the perspectives of three roles come together to discuss a requirement before it is passed to the team to implement. This workshops looks at:
Business Analysis – The business view (how will it be used?)
Technical Elaboration – The technical view (how will it be built?)
Test Analysis – The assurance or test view (how will we know that it's done, and that it works?)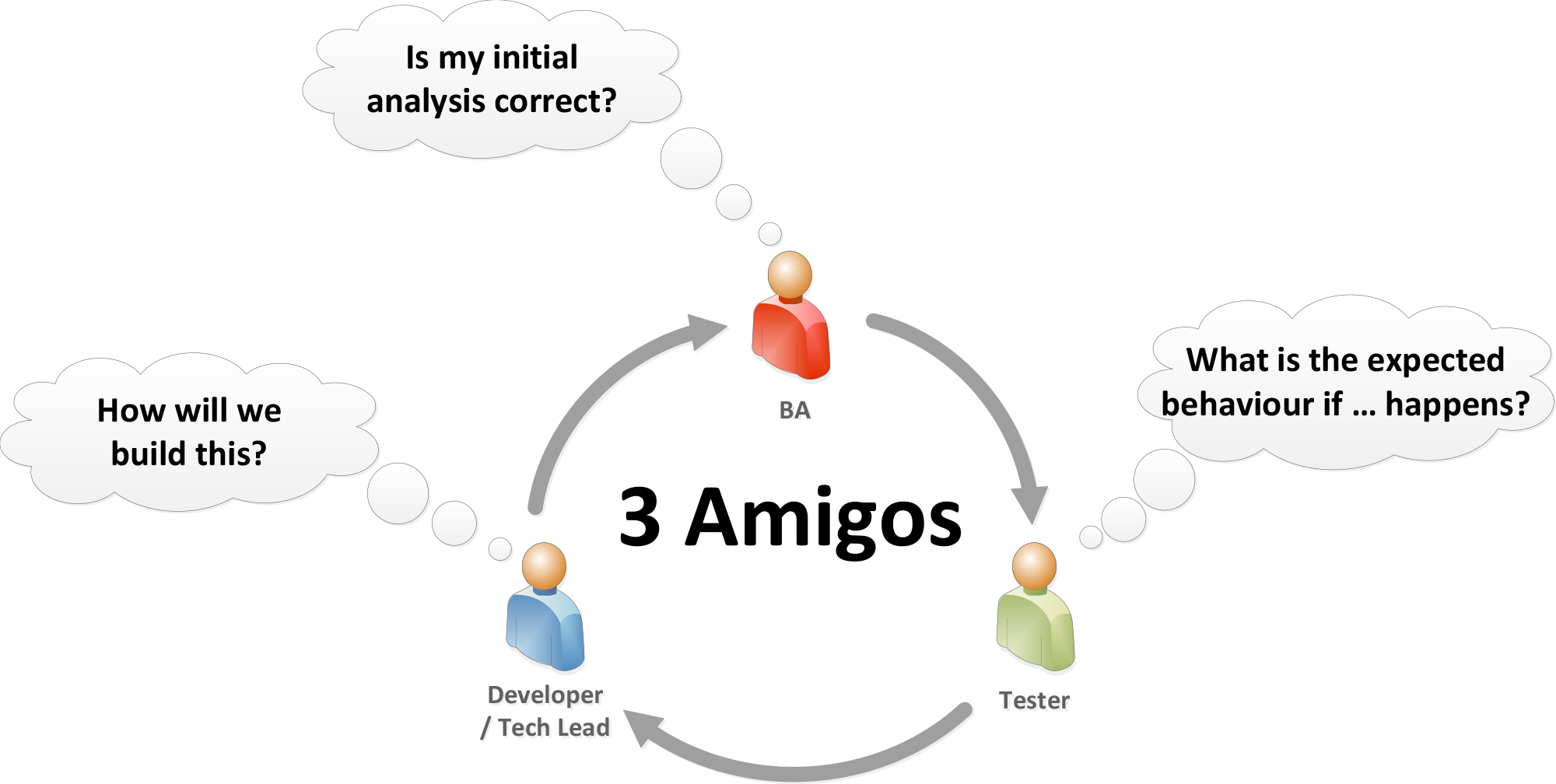 As required
Key Focus: Decomposition of Epics into smaller work items
Product Owner, Business Analyst & 3-Amigos
Business Analysis

The BA is responsible for pitching the Story in the form of the Initial Analysis (see previous stage) to the other Amigos
The BA ensures that the 3-Amigo team have covered the key discussion points and help clarify any questions regarding the requirement
The BA can deputise on behalf of the PO for low level decision making in the delivery of the story
Has overall responsibility of the Story – ensuring that it meets INVEST criteria and any changes to the acceptance criteria have been captured.
Tech Elaboration

Usually a Tech Lead or Developer who takes responsibility for the technical viewaround delivery – ensuring that a viable solution is in place
Focuses on Services components and anyoverarching NFRs that need to be met
May require support from Designers or architects
Calls out any external dependencies needed that may prevent the story being delivered in the next sprint
Test Analysis

Drives the "Quality" conversation within the 3-Amigos
Works with Technical Lead to ensure clear NFRs for the story are identified (Performance, Accessibility, Responsiveness, Resilience, Integrity, Scalability, Security, Supportability)
Uses 3-Amigo stage to write BDD Test Scenarios
Identifies any wider testing needed for the story such as Exploratory and regression testing